In May 2001 in celebration of the 100 years since the granting of patents to Frank Hornby for the mechanical construction system he invented, later to become Meccano, a large exhibition was held at the Didcot Railway Centre, Oxfordshire, England.
The pictures on the left were taken by me on Saturday May 26 2001 click on the thumb nail images to see a larger picture.
Following the success of Meccano the Company went on to produc
e a huge range of high quality toys starting with Hornby Trains in the early 1920s. In addition to toy trains the range went on to include: Aeroplane Constructor, Motor Car Constructor, Dinky Toys, Dinky Builder this was a metal construction toy aimed at younger boys & girls and in 1938 Hornby Dublo scale model railways, a product superior to any other British 00 scale for many years.
Other toys manufactured by the company in the inter-war years included: Kemex sets (chemistry sets),Elektron (electrical) sets,crystal radio receiver kits, clockwork boats, doll's houses and metal doll's house furniture. The exhibition brought together examples of all these products, collected and treasured over many years by enthusiasts and was probably the largest and most wide ranging collection of Meccano products ever assembled in one place.
The main display, shown in sequence on the left and starting at the top was instigated by enthusiast, collector and writer on Meccano products Jim Gamble, who drew on the collections of:
Michael Rhoades: All aspects of pre-war red/green and post war red/green. Among the many items he included were, a beautiful 1926 red/green/nickel No.7, an unused 1961 No.9a Elektron and Mechanised Army plus four of the twenty one different Window Display Models.
Malcolm Hanson: All aspects of blue/gold period including a Dealers Display Cabinet complete with display, two large manual models from Outfits 9/10, a pristine No. 8 Outfit, an H Outfit in wooded box plus much more.
David Howe: All aspects of the nickel period which included a 1924 Dealers Display Cabinet with display and extent ion box, Nickel No.7 Outfit, Giant Block Setimg Crane in nickel, Early Super Model Leaflet model of Motor Chassis and more.
Jim & Edward Gamble: Mechanics Made Easy including a Simplified Mechanics Set. and also filled the gaps with Hornby Speed Boats, Car and Aero Constructor sets and models, Binns Road set of 138a -z, Kemex, Hornby O Gauge, Hornby Dublo, Dinky Toys with Dealers Showcase, Dinky Builder. and the remaining seventeen Window Display Models.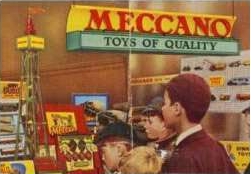 All the items on display were original and either as new or in first rate condition. The main display was arranged in chronological order starting with the early "Mechanics Made Easily" sets in their delightful tin boxes through to dark blue and yellow sets of 1978.
The last three pictures are of Hornby Trains this part of the exhibition and a lot more not shown here was organized by the Hornby Railway Collectors Association. The last of these pictures is a unique collection of 1930s Hornby Dublo including the short lived clockwork system the collection is owned by Bob Field. The Hornby Dublo model railway system was introduced for the Christmas of 1938 by Christmas 1939 Britain was at war during 1941 production ceased and Hornby Dublo was not back in the shops until the late 1940s.
More pictures can be seen on the link below:
Click here for Information the Didcot Railway Centre
The Hornby Railway Collectors Association

Return to Alan's Meccano Page
May 26 2009 revised July 26 2012