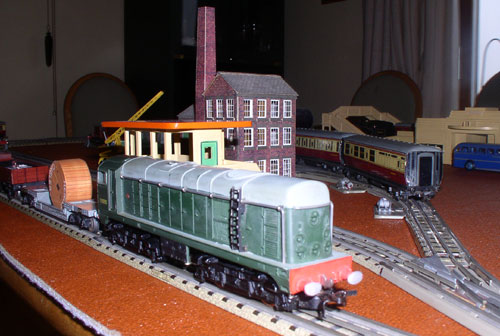 Although my main interest is Meccano building I also have a modest and slowly growing collection of nineteen fifties Hornby Dublo model railways. It was in 1959 that I purchased my first Hornby Dublo model railway this consisted of a Bo-Bo diesel locomotive, two brown open wagons and Western Region guard's van these were the latest Super detail products. I ran my train on an oval of Wrenn flexible track, I bought this because it looked more realistic with its separate fibre sleepers, than the Dublo tinplate track. I seem to recall that when it came to extending my oval the Wrenn points were more expensive than Hornby Dublo and much harder to find so I started buying the Hornby Dublo tinplate track as pocket money permitted. The advertisement announcing the new Bo Bo locomotive that inspired mr to have a Hornby Dublo railway is shown at the bottom of the page.
In the earrly 1960's I sold my collection for £5.00 advertised in the local paper I reduced the price because the buyer really wanted two rail. Recently I have been buying the items that I once proudly owned, including the Bo-Bo diesel shown on the left and the Duchess of Montrose shown above.
Hornby Dublo model railways were first announced by the Meccano company in the December 1938 Meccano magazine, as "The perfect table railway" and they almost certainly were. The models were 00 gauge to a scale of 4mm to the foot with three rail track, the centre rail is to pick up the 12 volt current. The locomotives were highly detailed, die cast metal, the wagons and coach bodies were litho tin printed with die cast under frames and boogies. When they were re introduced in 1947 in small numbers there was a great demand and it was several years before the full range of products could be purchased. Hornby Dublo trains quickly became popular but soon a cheaper rival came along, Rovex Tri-ang later Tri-ang Railways with a two rail system and plastic construction and a lot cheaper! The other main rival was Trix like Hornby Dublo it had a three rail system, Trix had been introduced in 1935 several years before Hornby Dublo but at first they had a rather crude toy like appearance, but later were very much more detailed and very similar to H.D.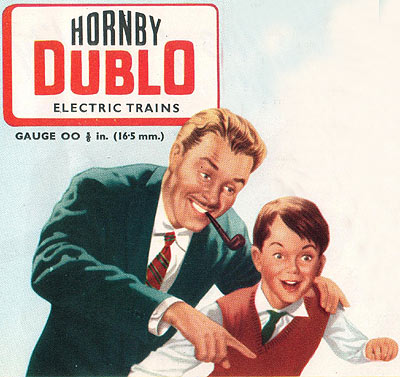 In 1959 Meccano announced they were introducing a two rail system, much to the disappointment of myself, just starting my collection and all those who already had the original track system. This was no great surprise as Meccano had started producing "Super Detail" plastic wagons in 1958 for "two or three rail running." When Meccano announced the introduction of the two rail system they stated that production of the three rail system would carry on as long as there was a demand, in fact production lasted until 1964. The huge investment involved in changing over to a badly conceived two rail system was partly responsible for the collapse of the Meccano company. Production of Hornby Dublo trains ceased in 1964 following the take over of the Meccano Company by Lines Bros., makers of their greatest rival Tri-ang Railways , the two systems were merged under the name of Triang Hornby in 1965 but very little of the Hornby Dublo products survived in the new regime. Today the system is know as Hornby and has nothing to do with Meccano.
More information about Hornby Dublo and Hornby gauge "0" can be found at The Hornby Rail Collectors Association web pages.
My own "Table Top Railway" is shown in the photographs below I do enjoyed getting it all out of its boxes and setting it up. Although now I have an 8' x 4' layout on a folding base board.
Enthusiastic smoke piping Dad and son are from the 1959 Meccano products catalogue. Yes its the same illustration transposed as shown looking at the digger on my main Meccano page.