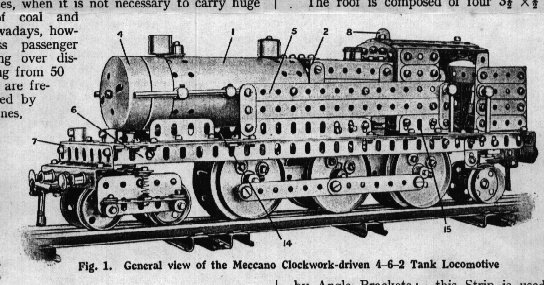 This is a gauge "0" model of a 4-6-2 wheel arrangement British tank locomotive based closely on plans published in Meccano magazine of September 1929. The instructions were also published in the 1930 4 - 7 instruction manual and 1934 F-L manual . I think it is a very appealing model and easily lends itself to modification. My model is shown on 1950's Hornby "0" gauge tinplate track.
The model is fitted with a Meccano No1. clockwork motor however, I found my model was too heavy with all the extra parts I had added to be able to move easily, it worked beautifully at a good speed with out the boiler and cab. The drive is taken from the motor pinion by meshing directly with a half inch pinion in the motor frame this same rod carries the rear driving wheels. A lighter version than mine built by S.P. Dutt certainly runs well see foot of page.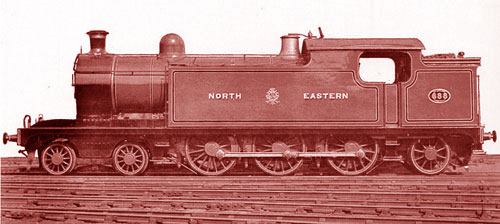 I tried to improve the appearance the original by using parts not available in 1929 such as narrow strips. These have been used on the tank tops and connecting rods. I am indebted to Graham Jost of Melbourne Australia for sharing his experience of building the model and sending copies of the original plans to me. An illustration from those plans from the Meccano Magazine is shown above. Graham's own version of the tank engine is shown lower down the page, note the engine driver or is it the fireman peering out of the cab.
Above left is a picture of the type of locomotive that the Meccano model was based on.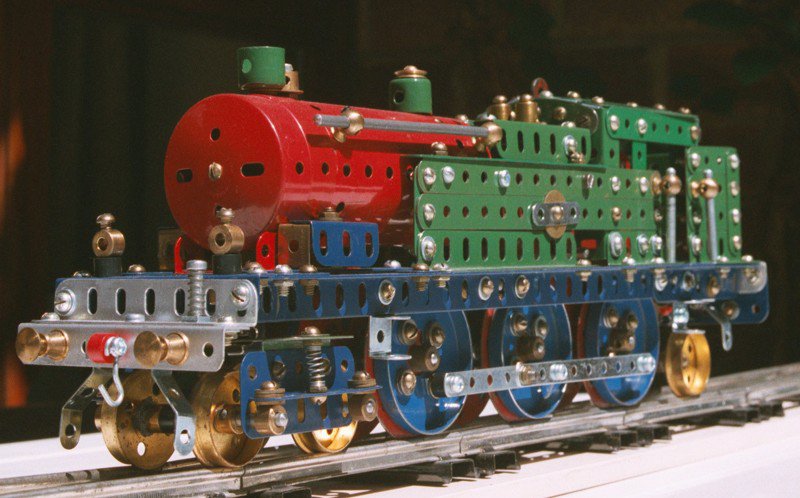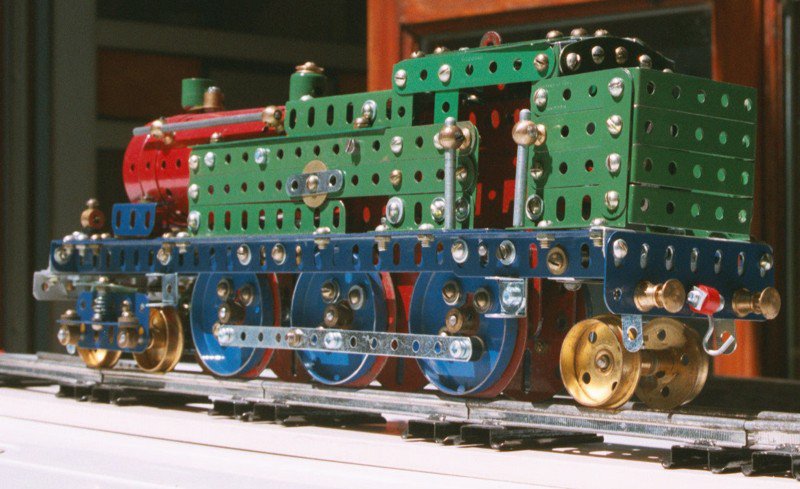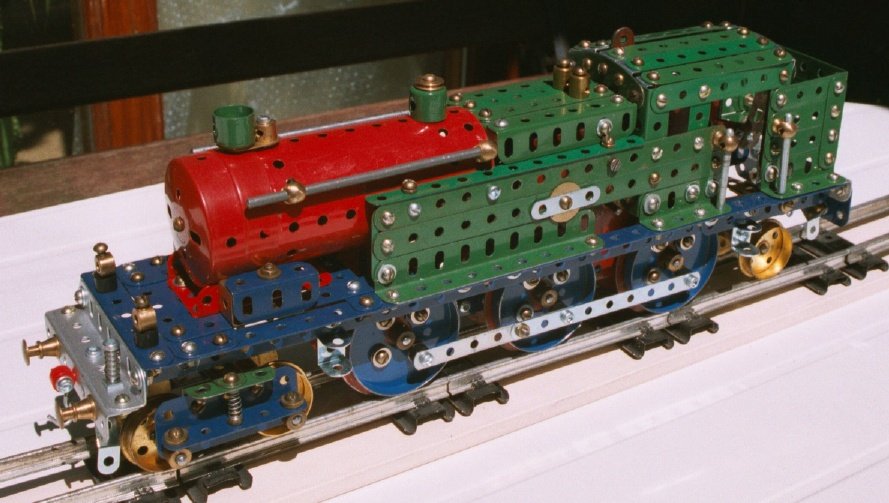 Below are several versions built by other Meccano builders from around the world.
Model above constructed by Philip Bond of the South West Meccano club note the attractive foot bridge.
Model above built by Paul Leech in 2019, show on his garden railway.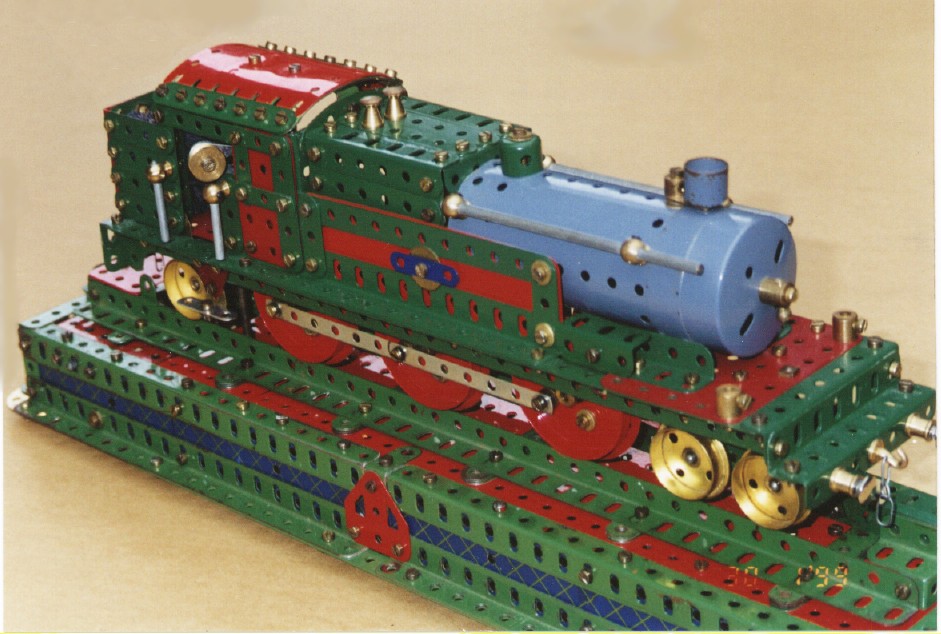 The model above built by Graham Jost of Melbourne Australia. It is driven by endless spring cord in the base contacting all wheels, so that even the front and rear boogie wheels revolved - a very satisfactory scheme, which ensures that all wheels, irrespective of their diameter, are turning at their correct relative speeds.

The picture above is another version built by Jacques Vuye, Tour de Faure, France . Jacques built this after seeing my model and visiting the National Railway Museum in York.

The model above using original 1920s nickel and later red parts was built by Joseph N Attard of Malta.
The model above was built in 2009 by Eric Viali, Cergy, France.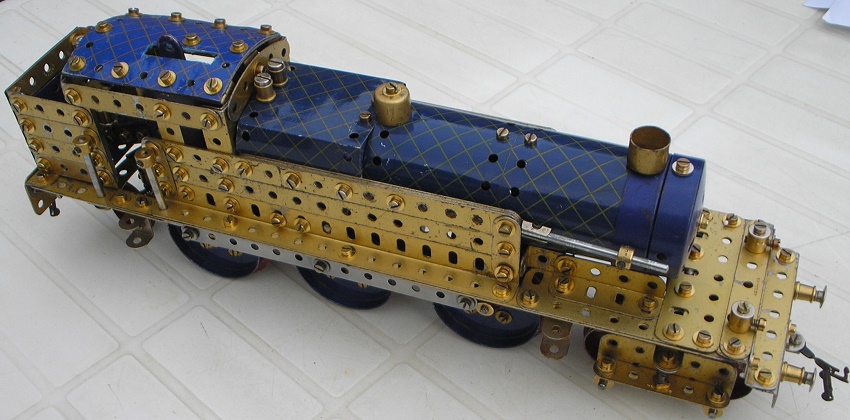 Mick Burgess built the model above using gold and cross hatched blue parts. The model was included 1934 F-L manual following the introduction of flexible plates but Meccano never revised the instructions to include those parts. This is what it could have looked like had they done so apart from the mutilated cab roof for the control lever!
This delightful and very colourful version was built in 2020 by Jagat Bodawala from Ahmedabad India.
Modified version electric powered to run on "G" gauge built by Robin K Kirk in 2015 a video on Youtube can be seen here.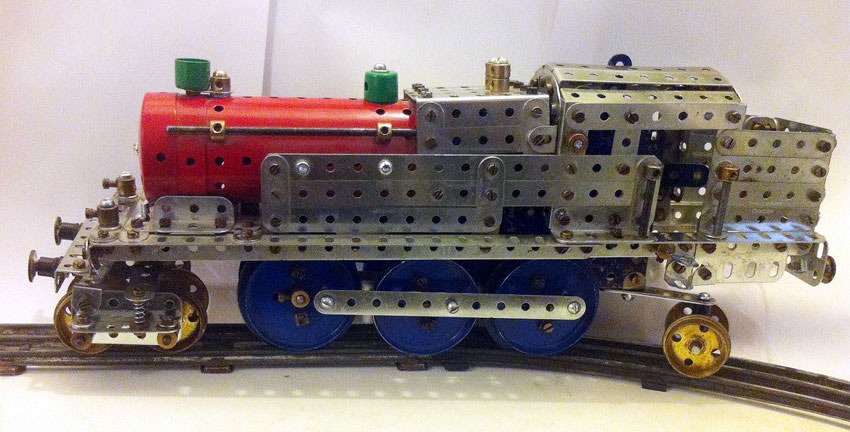 The model above was built by SP Dutt of India and has been modified to allow it to run on 2' radius tinplate gauge 0 track.The engine is driven by a Meccano 1A clockwork motor. You can see a video the engine running by clicking on the link below. Very sadly my old internet friend SP passed away on April 26 2021 in Delhi after contracting Covid -19 R.I.P.

Page revised July 11 2022 (WIN10)