This model farm tractor was published in the 1954 No. 6. instruction manual the model has a nice neat appearance. The model is driven by the No. 1 clockwork motor, that fits neatly into the bodywork. The model also has a simple steering mechanism. I have built the model using yellow and zinc finished parts parts from early 1970s . The previous farm tractor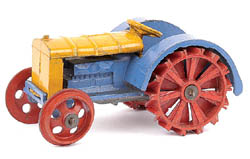 model 6.17 in the 1949-1953 manual had I think a more realistic appearance although the contents of the sets were much the same. Although this later model had the added play value of a Hay cart and a rake. This model at least has solid rear wheels an improvement on the open style wheels of the older model which date back to the design of the early Fordson Tractors. Its worth noting this earlier model is very similar to the charming early Dinky Toy Tractor.
I intend to make the earlier model and will add it to this page when completed.
Revised May 17 2015