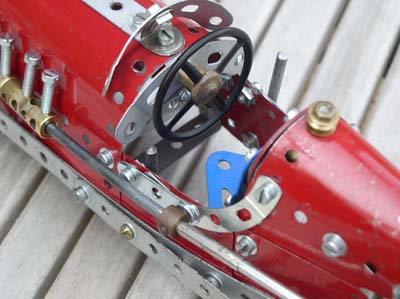 This is a model of a typical 1920s-1930s racing car.
I have always admired the French version of the tin Road wheel part no 187 a much nicer affair than that produced by Binns Road . On a trip to the CAM Meccano Exhibition near Grenoble in May 2008 I bought four of these attractive wheels in red and cream. Then I needed to think of a model to use them on . I have always admired the racing car built with 1930s blue and gold parts made by Jim Gamble and featured on page 325 of HCS Volume 6 "The Meccano System" published in 1986 by New Cavendish. The car is a lovely nostalgic model, that really sums up the spirit of Meccano at that time although as far as I can see it is actually based on a 1954 manual model.
So with the inspiration of Jim Gamble's original, the 1954 manual model 4.20 and my own input I produced, "The Big Red Racer." It doesn't do in fact anything except nostalgia.
The original in the 1937 number 4 manual looks as though it was inspired by the Bugatti Racing cars of inter war years, all be it a rather elongated version. However the Mecano model has a very wide wheel base (illustration from the version in 1954 manual below) giving it a quite different appearance to my version. The parts I used were 1950s mid red and and late 1964 aluminum and of course the four 1950s French tin wheels. The seat is made from recent French blue parts. Since the pictures were taken I have added a floor to stop the driver falling out!
The illustration at the foot of the page of a remarkably similar racing car to "The Big Red Racer" is from a German advertisement of the 1920s for the American Duessenberg.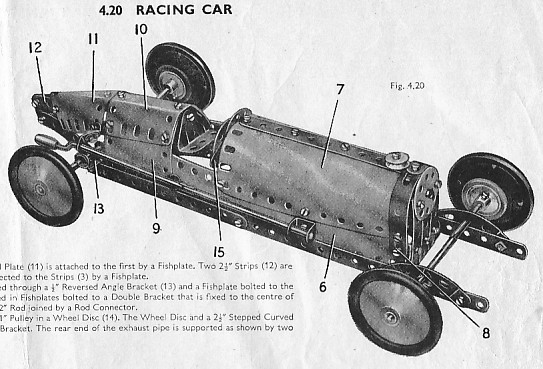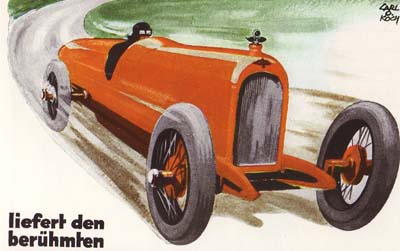 May 25 2008 revised January 29 2008