This is a Meccano model of a Conveyancer fork lift truck I have based this on the Dinky Toys, model 404 that was introduced in 1967. I was inspired to build this after I built the 5 ton Bedford Pallet-Jekta delivery van.
I think it makes a nice companion model, to load pallets into the delivery van. I have once again used French pale lemon yellow and Binns Road 1970s yellow plates to match the van, I imagine the Meccano company must have had a similar vehicle to load their own Bedford vans. When the Dinky van was introduced it was shown with the Dinky Toys Coventry Climax fork lift truck.
The model is small and compact but has all the operations of the prototype, the forks are raised and lowered by a cord fitted to the top of the fork frame rear, the cord is connected to the rod with the 1/2" pulley. This is braked by using a spring clip pressed against an angle bracket, an idea I gleaned from Meccanoman's Newsmag from a few years back. The small bush wheel controls the backward and forward movement of the the fork rails through a simple linkage. Akerman steering on the rear wheels is again by an effective but simple linkage. All these operations can been seen in the underside view shown above. The hubs are from recent sets and fit well in both the push-on medium size wheel and the 1" pulleys these are fitted with wider tyres p/n 142k
The picture below shows the Conveyancer fork lift truck about to load a pallet of Meccano products in to the Pallet-Jekta delivery van.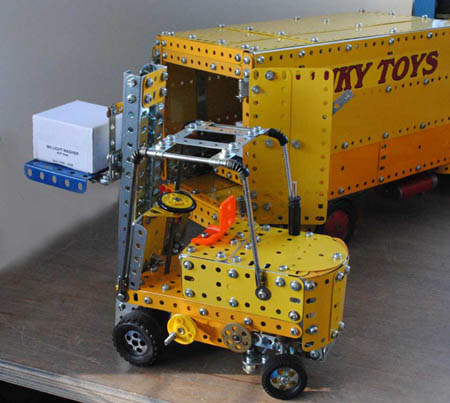 The Conveyancer company was taken over by Coventry Climax in 1977, another builder of fork lift trucks, this later became part of the British Leyland group. sadly none of these companies exists today.