This is a freelance model of a nineteen twenties steam tipping wagon of my own design. I was intending to build the Steam Wagon from the 1937 number 6 manual (shown below) as the next in my series of blue and gold models. I made a start on this but thought I can do better than this and started again, above is the end result. In 2022 I decided to go back and build the model. Click here or on the image below to find out about this project and other Steam Wagons I have built
My model is built from original pre-war blue cross hatched plates and re-sprayed gold parts.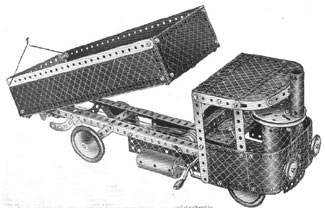 I searched the web and a book of mine "Steam Wagons in Focus" and came up with this amalgam of several wagons. My model is largely based on the Atkinson Uniflow series of wagons built between 1916 and 1929 (see contemporary ad for the Atkinson steam waggon on the left .) The text I think is large enough to be able to see the virtues of this wagon, including the draft free cab!
My model is driven by a modern French 6 volt motor through a worm gear box and chain to the back axle, the differential is just a simulation. The motor is controlled from the gold lever inside the cab. The box behind the cab on the original engine would have been the water tank, the coke for the boiler would have been in the cab. The tipping body on the model is raised by a hand operated screw rod mechanism devised in this form and used by Bob Watson in his Bedford Tipper featured in SMG Journal 114 June 2012. (The mechanism is shown above)
I pondered a long time about which wheels to use, steam wagons had a variety at first they were cast with solid tyres. Later pneumatics were used on standard lorry wheels although they were often still available with older style wheels, I decided to opt for these. My wheels are from Metallus fitted with wide rubber bands for grip and to sort of simulate solid rubber tyres. These were later improved using strips or rubber from an old cycle inner tube. Since completing the model I have made some modifications including rear mudguards, water pipe reel, shown in the top picture on this page. The picture lower left shows the other modifications.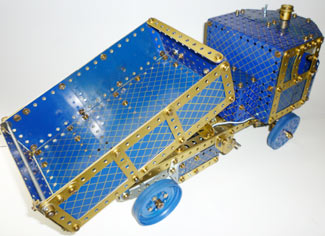 Page created Oct. 03 2014
Revised February 08 2022