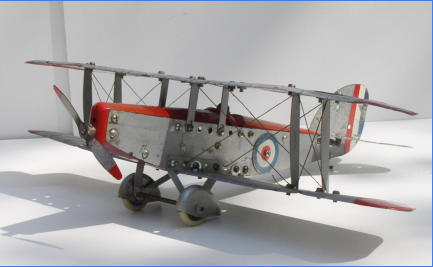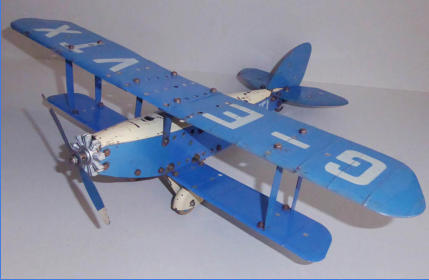 "Unequal-cord Sesquiplane" or bi-plane with one and a half wings,
built with parts in original condition
This was similar to the Armstrong Whitworth Atlas
that entered RAF service in 1927.
Biplane fighter tail view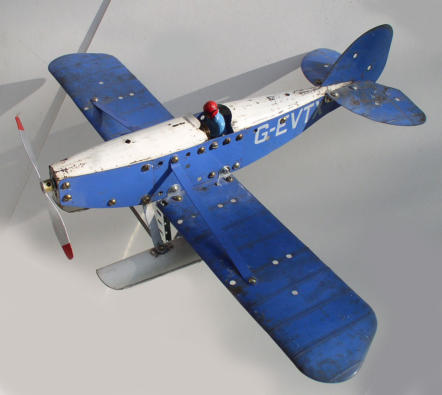 This is an album of Meccano Aero Constructor models I have built from my collection of sets and
parts. The aircraft shown are based on those in the 1932-1941 Instruction manuals. Click on the
images to zoom and enlarge
Biplane fighter my first Aero Constructor model ,nose view
Restored Racing Sea Plane with radial engine using French
Aeroplane Constructor tapered wings
Play worn Racing Seaplane
1930's radial engine single seat biplane fighter.
"Light Single Seat Parasol wing Monoplane" built using restored
parts including French corrugated tapered wings,
these attractive parts were never sold in the UK.
Triple engine airliner based on a model in the No.2 Outfit manual.
I added some extra parts to make a triple finned tail plane
that was more appropriate for a large aircraft of that time.
The set is as I purchased it, in good but play worn condition
but I have purchased a new set of white tyres.
Triple Engine Cabin Monoplane (airliner) .
Most of the parts have been restored except the wings.
The engine nacelles are from the short lived original 1931 sets
intended for fitting to flat wings.
Page created February 02 2023 Revised July 21 2023
Seaplane with unequal-cord or bi-plane with one and a half wings,
built with mainly restored parts.
Learn more about the
Meccano Aeroplane
Constructor sets by
clicking on the image
below.