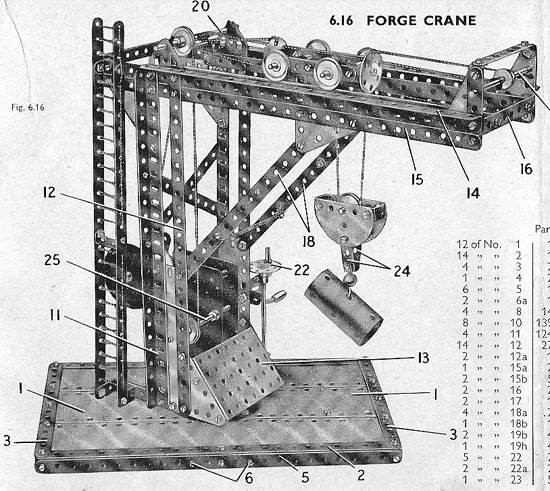 Close up showing crab (trolley) that carries the hoist using ½" flanged wheels instead of the 1" pulleys . Note use of modern French push on, small, rubber pulley to allow cord to grip as rod is rotated.
This model 6.16 of a Forge Crane is built with original mid nineteen fifties red and green parts and is closely based on instructions published in the 1954 5A accessory set and number 6 manuals. I find the models in the 1954 series of manuals very appealing perhaps because they were those that I had a child.The 1954 series of manuals remained in production until 1961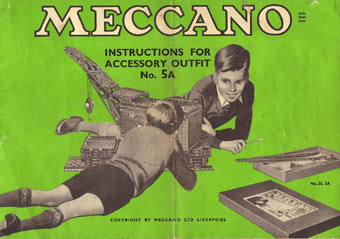 The crane is basicaly a nice design and makes good use of the parts in the number 6 set particularly the triangular flexible plates introduced in 1954. Six of the models illustrated in the manual require the Number 1 clockwork motor shown below although this was not included in the set. In this crane, the motor is an integral part of the model and acts as a counter balance.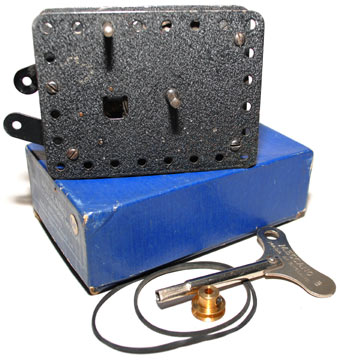 Although I followed the basic form of the model I took the parts from my red and green number ten set giving much scope for a stronger construction.
The main fault of the model is the inadequate rotation bearing and flimsy construction of the supporting base, when built as described the crane has a tenancy to topple over. To improve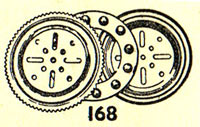 this I strengthened the base and used p/n 168 ball thrust bearing shown on the right. The ladder I made using 1¼" bolts , I am not a big fan of using string for ladder rungs but of course I was not restricted to the parts in the number six set.