Links to model categories
The Blue and Gold Meccano 1934 - 1941

Meccano Trucks Lorries and other commercial vehicles


Other Meccano models includes: Clocks, Ball rollers, Fairground rides, aircraft, mechanisms, ships.

My own Meccano Special Edition Set Models

Meccano Super Models new page under construction
My Vintage display at the Museum of Power Maldon May 2017
I will be exhibiting next on Sunday 10 th of December October 8 at the Christmas Fayre with a Christmas themed display.
This gallery has over ninety Meccano models that I have built over the past few years plus models from other builders who have built their own versions of these models . My choice of models is rather eclectic as is the choice of Meccano colours I use. My own philosophy is to use only parts in the Meccano system of any period from 1900's to the present day although I must admit to occasionally alter parts and use some parts from other compatible systems.
All pages uploaded since September 03 2016 now have a zoom feature to enlarge the pictures. Just click over the image and you will see it enlarged.
Click the captions or images on the left to take you to an index page of the model categories or click on the latest links below.
Platform Scales SML 7 November 23 2017
1937 Military Tank October 26 2017
Karrier Cob Mechanical Horse and Trailer September 26 2017
Vertical Log Saw SML 23 August 29 2017
Hand Operated Gantry Crane August 19 2017
Vintage Display at the Museum of Power Maldon May 19 2017
Railway Breakdown crane April 26 2017
1937 Army Lorry February 15 2017
1930 Fly Boats January 13 2017
1937 Breakdown Lorry Nov 04 2016
Giant Block Setting Crane Oct. 26 2016
Traveling Jib Crane Oct. 16 2106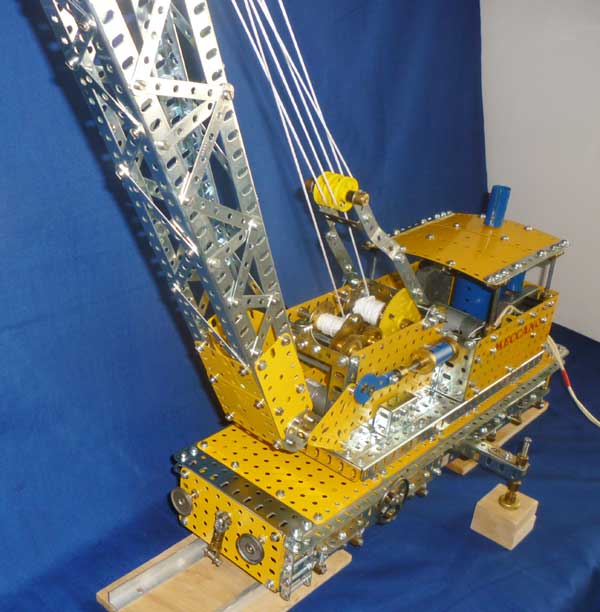 Your questions about my models are always welcome click the link below

Contact AlansMeccano
Page created November 21 2012 Revised November 23 2017