An unusual feature of this crane is the vertical hoisting cord. This is operated through a series of gears from the base of the crane the rod that carries the cord also acts as the pivot rod for the jib to turn. This again operated from the base of the crane using and endless loop of cord passed around the flanged/pulley wheel forming the base of the jib structure.
Original illustration from the 1914 instruction manual is shown above.Below is a version of the crane from 1935 F-L manual the plates have been re-touched from an earlier version pre blue/gold era.
This is a Meccano classic "The Girder Crane" built from the 1914 instruction manual. The manual came with a 1911 Number 4 set I was given in 2009. The original owner clearly enjoyed Meccano as he was given a few years later in 1914 a number 1 set. I also have this set in my possession and was the source of the 1914 manual. To keep in the spirit of the 1911 set I have I only used parts contained in it. However after doing a count of the parts it had clearly been made up to the number 5 set. The red string is not original although I do have a hank of the original blue string but did not want to cut it up.
I added some additional bracing strips from the left over surplus parts to improve the appearance instead of using string as shown in the instructions.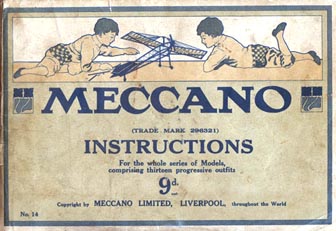 The 1914 manual dates from the time in Meccano history just after tapped bosses were fitted to wheels and gears in place of the rather fiddley tunnel fixing key method of securing the parts on rods, these can be seen on the left.
There are only two 5 hole double angle brackets in the 1911 set so I substituted five hole strips and angle brackets.As a result the instructions needed to be adapted to take the changes into account, something I am sure the average Meccano boy, perhaps with father's help could easily cope with.back in 1914.
There were eight 25 hole girders in the set and these are square ended, unfortunately some of these parts missing when I received the set. I have obtained some replacements but these are not in the same excellent condition as most of the other parts in the set .
I am not quite sure the reason for the name "Girder Crane" but in all probability its because of the construction of the model uses mainly girders in its construction. The "Girder Crane" continued in various forms in Mecano manuals for many decades right through to the nineteen fifties. For many years Meccano also used an illustration of the crane on a label on the small parts tin including Aero Constructor sets.
For more information about this historic set and other models I have built using it click the following links.
The 1911 Number 4 outfit I used to build the crane is shown below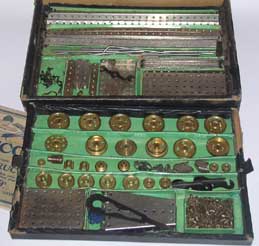 January 30 2013 Revised October 19 2020