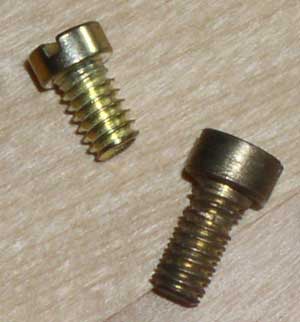 The construction was straightforward but using the larger bolts (described as "machine screws" in the manual) seemed strange after a lifetime of using familiar smaller bolts. The Instructions describe what you can clearly see but not what you cannot. The gear box illustration is completely misleading and I found impossible to build. What appears to be the same gear box in another model is shown clearly and shown constructed in a way that will work. One thing I found out is that the large bent strip is quite different to the double angle strips that came later it must have been 3/4 " high to clear the contrates and clips as they are mounted on a rod that goes through this part. The part unfortunately was missing from the set and I have made a replica by folding a nickel 7 hole strip just beyond the second and sixth holes to give greater height.
It was quite obvious that the crane had been built before with the parts as the four of the 25 hole strips were bent in the same way as those in the illustration so I had no need to bend them.
The set came with an original hank of blue cord but I did not want to cut up this, at the time 100 year old relic so I have substituted more modern red cord. There was a shortage of the tunnel fixing keys 22 being needed for the model I had only 13. Where the keys are not required for fixing the brass parts I substituted modern spring clips. The set was provided with small wood screws with which your model could be secured to a solid wooden base but I have used other screws of a similar size to fix the model to a nice old bread board I found in my garage possibly as old as the set.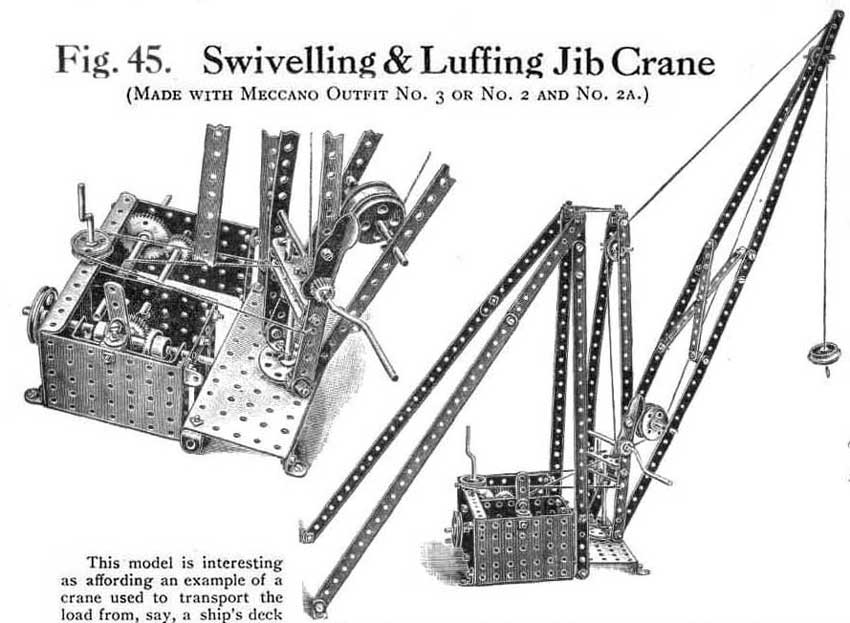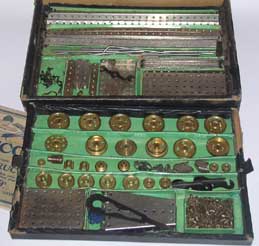 Original instructions from the 1911 manual are shown above
I think it is an excellent model, each function is controlled by turning a handle one each for, Swiveling, Luffing and hoisting. Although hand operated there is a simple sliding gear box for raising or lowering the hoist. The later version (circa 1914 ) of the model dropped this function. The early style Pawl and gear works well on the hoist.
I am sure the Meccano Boy of 1912 who originally owned this set would have gained a great deal of pleasure in building and operating this model just as I have. The 1912 Number 4 outfit used to build the crane is shown on the right.
Addendum
Doing a bit more research May 2021 I realised the set must have been produced in 1912 because the flanged sector plates have USA patent Nov 18 1912 very lightly stamped this was when the patent was granted. So this was a short lived set still using the tunnel fixings but with two small contrates with taped bosses during 1913 all tunnel fixings had gone replaced by taped bosses.
If you would like to see other historic models built with this set click the links below
1911 Travelling Gantry (crane)
February 26 2009 Revised May 14 2021